Archive for September, 2012
VIDEO — Judith Berkson
Thursday, September 27th, 2012
Catch Oded's Work Downtown!
Thursday, September 27th, 2012
If you missed Oded Hirsch's critically-acclaimed short films this spring, you have another chance! 'TELEGRAMS ON THE TABLE: An Interrupted Allegory + Picaresque Adventure,' curated and produced by Cheryl Kaplan, will feature Oded's work alongside shorts by dozens of international artists, filmmakers, philosophers, choreographers, and composers, in a fresco based on Fellini's 'La Dolce Vita.'
As Pasolini wrote: "There is not one significant communication in La Dolce Vita which is presented purely functionally; it is always excessive, overcharged, lyrical, magical or too violently veristic. That is to say it is semantically amplified…" As Curator/Producer Cheryl Kaplan has stated:  "One of the aims of TELEGRAMS ON THE TABLE is to semantically amplify Fellini."
September 28th, 2012 6:00 – 8:00 pm
September 29th – 30th 12:00 – 2:00 pm
Free and open to the public!
Clare Burson Returns to Her Roots
Wednesday, September 19th, 2012
Join Cohort I Fellow Clare Burson for a very special performance of her Six Points Project, the song cycle Silver and Ash. Songs will be performed in English, with stories in German, and the performance will take place at the opening of Clare's mother's art exhibit, 'HIDDEN IN PLAIN SIGHT,' in her grandmother's hometown of Leipzig, Germany. Don't miss this meta-exploration of ancestry, spirituality, and cultural tradition! For more details, click here or here.
7:00PM (19.00 Uhr)
Free! Eintritt Frei!
Clare Burson Named 2012-2013 LABA Artist Fellow!
Wednesday, September 19th, 2012
LABA: House of Study, a beit midrash for culture-makers at the 14th Street Y in New York City, has selected Cohort I Fellow Clare Burson as one of their 2012-2013 Artist Fellows! Every year, the LABA staff selects a group of 10 fellows to partake in a yearlong study of classical Jewish texts centered around a theme. The fellows then interpret these texts in their work which is featured in the bi-monthly online journal and annual year-end festival.
For more info, click here!
Two Fellows Join Forces in DUMBO
Saturday, September 15th, 2012
To bid farewell to their much-loved loft, Moishe House DUMBO is putting on a huge concert, featuring a double-bill with two of our rockingest fellows, Clare Burson and Alicia Jo Rabins!
On September 20th, Clare and Alicia's band Girls In Trouble will be sharing the stage for the first time ever, so celebrate the New Year, and help Moishe House say farewell at this fantastic concert! Click for more details.
September 20, 2012 @ 8PM
Tickets are $5, and include a free drink!
Moishe House DUMBO is located in a loft on the waterfront, right under the Manhattan bridge in Brooklyn, New York. To find out exactly where, and to attend, please RSVP by emailing .
Netta in Minneapolis
Tuesday, September 11th, 2012
If you're in the Twin Cities this November, catch Netta Yerushalmy's choreography as part of Zenon Dance Company's 30th Anniversary performances at the Goodale Theater! Described as "the dance company that can do it all" and "in a league of its own" by the Star Tribune, the Zenon dancers are renowned for their tremendous stylistic diversity, technical virtuosity, artistic integrity, as well as their fearless physicality and emotional intelligence. Click here for more info, and here to purchase tickets!
November 16, 17, 23, 24 :00 PM
November 18 and 25 :00 PM
Netta's Devouring Devouring at La MaMa
Tuesday, September 11th, 2012
Netta Yerushalmy's Six Points Project Devouring Devouring will enjoy its world premier at La Mama's Ellen Stewart Theatre in December! Bringing together a cast of singular and fierce performers from Tel Aviv and New York, and drawing on movement sensibilities from both locales, as well as on Baroque iconography, Netta's choreography meanders between the representational and the formal, the elegant and the awkward, ultimately probing at the actual or perceived differences between the two. Click here for more info!
December 13 – 16, 2012
7:30 PM
Judith Berkson's The Vienna Rite in Brooklyn
Tuesday, September 11th, 2012
Early this November, Judith Berkson's Six Points project The Vienna Rite will premier at Roulette in Brooklyn! The Vienna Rite is a chamber opera about Viennese cantor Salomon Sulzer, whose life spanned most of the 19th century to include a friendship with Franz Schubert, an arrest during the revolution of 1848, being knighted by the emperor, and spreading a liturgical style influenced by the music of his city. The opera will explore these events drawing on influences from Viennese opera, contemporary music and devotional singing of cantors, and will feature a vocal ensemble, percussion, harmoniums and organ. Click here for more info, and here to purchase tickets!
November 2 – 3 @ 8:00PM
Tickets are $10 – $15
Clare Burson at Washington College
Monday, September 10th, 2012
Cohort I Fellow Clare Burson will join novelist Anna Solomon at Washing College for "Jewish Voices," an evening of words & music. Presented by the Rose O'Neill Literary House, Anna and Clare will discuss their collaboration, A LITTLE SUITE for THE LITTLE BRIDE, a song cycle inspired by Anna's novel, that weaves together story and song in a seamless performance.  Expect an exploration of memory, loss, love, immigration, and the creative process itself.
Contact Kathryn Bursick, , if you're interested!
November 13, 2012
4:30-5:30 PM
Free and open to the public
Blood Play in Bushwick
Thursday, September 6th, 2012
Hannah Bos' Six Points Project, Blood Play, will premier this fall at The Bushwick Starr! Created by The Debate Society, Blood Play translates the anti-Semitic medieval perception that Jewish men menstruated into a provocative, 20th century thriller.
Soon, the story spread…Whispers in the basement bars of the homes around the neighborhood. Rumors served at the soda shop. Kids, terrified, telling trembling tales in tents in the backyard. …He's out there.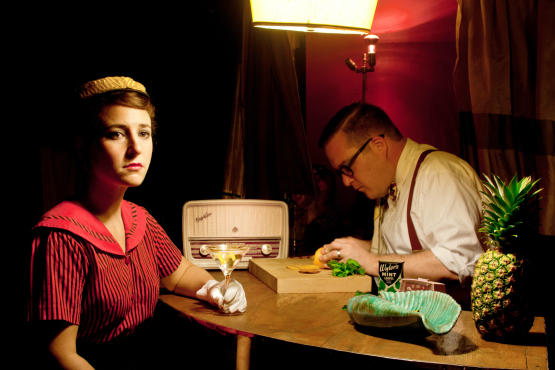 Blood Play will perform October 3 – 27th, 2012.
Click here for more info, and here to get your tickets!